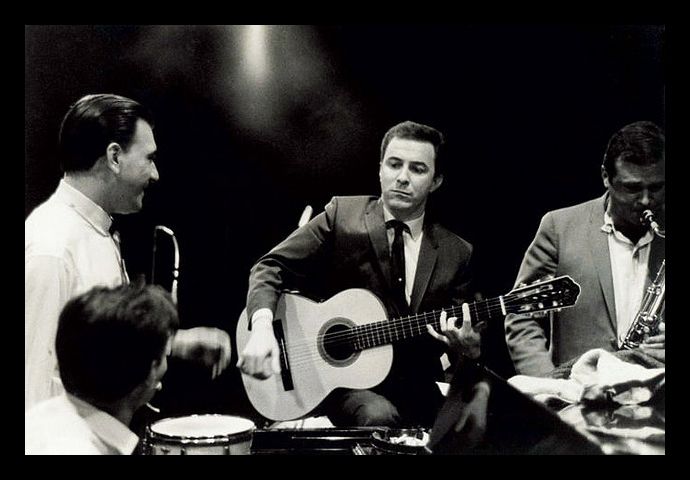 Summer is quickly making its way to Texas. It is already into the 90's on a regular basis. To start easing my way in to summer, I have been listening to one of my favorite records; Getz/Gilberto (1963).  These dreamy bossa novas are the perfect summer soundtrack.  So grab a cocktail, sit back,  relax and click play...  
Track listing
1. "The Girl from Ipanema" (Antônio Carlos Jobim / Vinicius de Moraes / Norman Gimbel) 0:00
2. "Doralice" (Antônio Almeida / Dorival Caymmi) 5:24
3. "Para Machucar Meu Coração" (Ary Barroso) 8:10
4. "Desafinado" (Jobim / Newton Mendonça) 13:15
5. "Corcovado (Quiet Nights of Quiet Stars)" (Jobim) 17:30
6. "Só Danço Samba" (Jobim / de Moraes) 21:48
7. "O Grande Amor" (Jobim / de Moraes) 25:34
8. "Vivo Sonhando" (Jobim) 31:00
9. "The Girl From Ipanema" (45 RPM Issue) (Jobim / de Moraes / Gimbel) 34:05
10."Corcovado" (Quiet Night Of Quiet Stars) (45 RPM Issue) 37:00
Personnel Stan Getz – tenor saxophone
João Gilberto – guitar, vocals
Antônio Carlos Jobim – piano
Sebastião Neto – double bass
Milton Banana – drums, pandeiro
Astrud Gilberto – vocals (in "The Girl from Ipanema" and "Corcovado")
Getz/Gilberto is a 1964 jazz-bossa nova album by American saxophonist Stan Getz and Brazilian guitarist João Gilberto, featuring composer and pianist Antônio Carlos Jobim. Its release helped fuel the bossa nova craze in the United States and internationally, becoming the first Grammy Award-winning album from non-American artists. It brought together Stan Getz, who had already performed the genre on his LP Jazz Samba, João Gilberto (one of the creators of the style), and Jobim, a celebrated Brazilian composer (and also one of the main creators of the genre), who wrote most of the songs in the album. It became one of the best-selling jazz albums of all time, and turned Astrud Gilberto, who sang on the tracks "The Girl from Ipanema" and "Corcovado", into an internationally celebrated musician. The painting on the cover is by Olga Albizu.